Installation & safety devices
One of the key points of the iBanr is its ease of use, assembly, and setup. You don't need any special technical knowledge to use the screen, you only need one minute of assembly to start communicating. Once mounted, the safety devices ensure the rigidity of the screen.
Giant screen assembly
Our iBanr LED display offers you the possibility of forming a big screen by simply plugging the screens together after folding the side flaps. Once the screens are assembled, the content programmed on one of the screens will be displayed at the right size on your giant screen without any visible edges.
The control application
The connection with the iBanr is done through the wifi network, you just have to connect to the wifi of the screen and then go to the Viplex Handy application to have access to the iBanr user interface. This application can be downloaded from the Appstore and Play Store.
Connection with a battery
Be able to communicate with iBanr without having access to a power outlet ?
It's possible ! Our high definition led screen can be powered by a 3000 watt battery offering up to 10 hours of autonomy. No more need to have a power outlet at hand! Communicate where you want, when you want.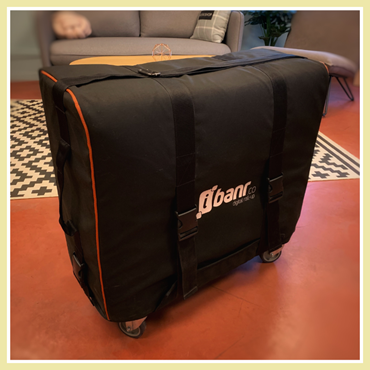 The carrying bag
The transport bag on wheels allows you to protect the iBanr and to transport it as easily as possible. The 80 cm high and 63 cm wide bag is made in polypropylene which combines robustness and lightness, all integrated in a flexible and resistant fabric : Cordura. It is a fabric used in the manufacture of clothing and military equipment known for its strength.